Regular price
$149.00 USD
Sale price
$74.50 USD
Unit price
per
Sale
Sold out
The most dominant chess players have a secret…
Every time they stun the World with yet another brilliant performance, we only see the top of the iceberg. The result. The victory. The new Elo record. The Gold medal.
What we don't see is the most important part.
The preparation.
In the Complete Tournament Preparation, IM David Fitzsimons reveals the 4-step process to get you ready for the best chess performance improvement of your lifetime.
Whether you are competing in a local Club Championship or a major Open… just follow David's VERY detailed preparation manual and play at your best when it matters most!
Here's what you are going to learn:
The 6-Step Method for Game Analysis – IM Fitzsimons reveals a precise algorithm that he and many other top players rely on. This will be a big eye-opener into your inner strengths and weaknesses. AND you'll also learn how to plug the holes in your game. (Chapters 1-2)
Creating an Opening Repertoire from Scratch – IM Fitzsimons provides you with an opening preparation blueprint that you can copy and use at your convenience. David deep dives into 1.d4, 1.e4, 1.c4, 1.Nf3 openings as well as some 'systems'. (Chapters 3-6)
2 Types of Opponents and How to Prepare for Each – David shares 'insider' opening preparation tips based on the type of opponent you are expected to play. Incorporate this into your training routine and you should expect to get an extra edge in MANY of your games. (Chapters 7-8)
Secrets of Middlegame Preparation – In this 5-hour section, IM Fitzsimons focuses on improving your tactics, strategy, and positional chess – at once! This very approach proved to be very effective with his private students for getting maximum results in a minimum amount of time. Needless to say, this section comes loaded with tactical and positional exercises. (Chapters 9-14)
Endgame Theory – David gives you a 3.5-hour crash course on endgame preparation. He focuses on theoretical as well as practical endings and teaches how to get the most out of your endgame even if you forgot all the theory! (Chapters 15-19)
IM Fitzsimons wants you to have truly the best tournament preparation course. That's why he also included some of the exclusive bonuses like…
PGN Vault – Fully commented, game-by-game PGN files packed with advanced theory and ideas for those willing to do whatever it takes to get that win!
Comprehensive Summary – IM Fitzsimons recorded a video summary so you can quickly recap everything covered in the course in under 40-mins! And you get an e-book version as well.
Recommended Reading List – IM Fitzsimon has handpicked 37 top books (listed by theme) for you that every aspiring Chess Champion must read.
This huge 15-hour Complete Tournament Preparation course comes loaded with everything you'll need to successfully play your next tournament. And it will make you a much better chess player in the process.
Here is the deal. If you only would buy a single course to improve your chess… this is it. It's a no-brainer.
Outline:
CHAPTER 1 Analyzing Your Games part I
CHAPTER 2 Analyzing Your Games part II
CHAPTER 3 Opening Preparation Approach and 1. e4 Overview
CHAPTER 4 Opening Preparation 1. d4 Overview
CHAPTER 5 Opening Preparation 1. c4 and 1. Nf3 Overview
CHAPTER 6 Opening Preparation System Openings
CHAPTER 7 Opening Preparation Preparing for Predictable Opponents
CHAPTER 8 Opening Preparation Preparing for Unpredictable Opponents
CHAPTER 9 Middlegame Preparation Tactical Devices
CHAPTER 10 Middlegame Preparation Missed Brilliancy Prizes
CHAPTER 11 Middlegame Preparation Classic Games
CHAPTER 12 Middlegame Preparation Classic Games in Practice
CHAPTER 13 Middlegame Preparation Positional Exercises part I
CHAPTER 14 Middlegame Preparation Positional Exercises part II
CHAPTER 15 Endgame Preparation Theory in Practice
CHAPTER 16 Endgame Preparation Studies in Practice
CHAPTER 17 Endgame Preparation Complex Rook Endings
CHAPTER 18 Endgame Preparation Endgame Technique part I
CHAPTER 19 Endgame Preparation Endgame Technique part II
CHAPTER 20 General Advice
About the Author
IM David Fitzsimons (2416 FIDE)
David Fitzsimons is an International Master from Ireland. He achieved this title in 2018 having reached a peak rating of 2416 in 2015, and scoring his three IM norms in consecutive seasons of the Four Nations Chess League (4NCL) from 2016 – 2018. He became the first and only Irish player to win an international open event, the inaugural Summer Prague Open in 2014, and has won numerous tournaments and national and regional titles in classical chess, rapid, and blitz. He has played for Ireland in two Olympiads (2010 and 2018) and has been selected to represent Ireland again at the upcoming Moscow Olympiad.
Share
View full details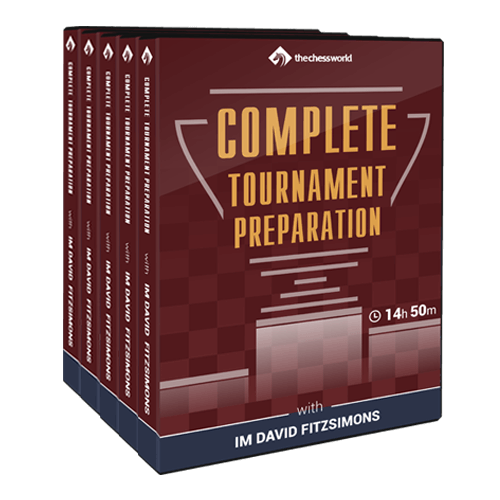 Free Shipping

Pair text with an image to focus on your chosen product, collection, or blog post. Add details on availability, style, or even provide a review.

Hassle-Free Exchanges

Pair text with an image to focus on your chosen product, collection, or blog post. Add details on availability, style, or even provide a review.